In case you missed it, some Plenty of Fish employees shared their favourite romantic movie moments on our culture Instagram in honour of Valentine's Day. The submissions were so sweet, we thought we'd give you even more moments to tug on your heartstrings. Here are our top 13:
13. 500 Days of Summer – The Ikea Scene
Some people have mixed reviews on this movie because, at the end of the day, it doesn't have a 'happy' ending. I, however, will forever think this scene is the sweetest thing in the world. Going to Ikea and playing house with a new love is the cutest dream date out there, and Tom and Summer's quirky and goofy relationship will surely warm your heart.
12. A Star is Born – Shallow Debut
The newest adaptation of A Star is Born is a more modern addition to this list, but you can't deny that Ally and Jack's relationship is electric. Jack recognizing Ally's raw talent and using his fame to give her the spotlight she deserves is a tell-tale sign of love that speaks to the romantic in all of us. When these two finally hit the stage together and sing 'Shallow' for the first time, it's a moment filled with pure chemistry and adoration.
11. Brokeback Mountain – "I Wish I Knew How to Quit You"
Ennis and Jack's relationship in this movie is nowhere near perfect, but you can't help but feel for them in this scene. These two deal with a lot of hardship, and the idea of it being easier to be with other people, but being with each other because it's what they truly want is something many of us can relate to. I love this scene so much because it's not eloquently articulated, it's raw and real emotion and frustration that shows us not everybody emotes in the same ways. Plus, that famous line makes you feel some type of way – we feel you, Jack!
10. Love Actually – Jamie's Proposal
Some think the heavily popularized "to me, you are perfect" scene is the most romantic moment in Love Actually, but I disagree. Jamie and Aurelia's relationship is truly adorable and shows that even when you don't speak the same language, love finds a way. Jamie's proposal, in all its broken Portuguese glory, is so incredibly heartwarming, but Aurelia's grammatically incorrect (but incredibly sweet) response is what truly evokes a big, giant "awwww."
9. Notting Hill – Just a Girl
Yes, this scene is incredibly cheesy, but do we love it anyway? Of course. Hugh Grant as William gives us the perfect trope of someone who is in love but is pushing their relationship away because they're afraid, and boy is that relatable to even the best of us. Julia Roberts as Anna also hits us where it hurts, reminding us as viewers how scary and painful it can be to put ourselves out there and put our hearts on the line.
8. Perks of Being a Wallflower – We Are Infinite
Yes, this movie is incredibly sad in so many ways, but hear me out. The ending shows us that there can be good even after so much heartbreak, and the importance of soaking up those small moments that make you feel alive. Charlie's last letter reminds us of what it was like to fall in love as a teenager and makes us feel all the nostalgia for those years when our emotions were so raw and honest. I mean come on, look at that kiss?
7. Briget Jones' Diary – Just As You Are
This scene makes it on the list for being the most relatable of them all. The world loves Bridget Jones because we can see ourselves in all her messy glory, and at the end of the day, we're all just looking for our own Mark Darcy to take us just as we are, flaws and all.
6. WALL-E – Robots in Love
A unique addition to this list is this moment from Pixar's popular WALL-E, where WALL-E and his robot love interest, Eve share a tender moment. Without any words at all, we understand how deeply Eve cares for WALL-E, and how she is doing everything in her power to show him all the things that make him unique. When WALL-E finally remembers Eve, and they intertwine their little robot fingers and touch their foreheads to 'kiss,' it's a non-traditional happily ever after that is surprisingly tear-jerking.
5. Silver Linings Playbook – Dear Tiffany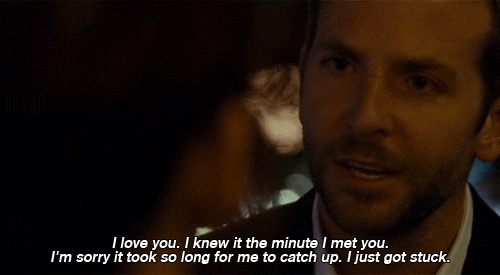 Pat and Tiffany's relationship in Silver Linings Playbook is an underrated one that shows love's ability to grow through mutual hardship and understanding. Anyone who's been through difficult and traumatic things in life relates to the ups and downs that this couple experiences throughout the film. When Pat finally professes his love to Tiffany in his letter, our hearts burst for her and the relief she feels knowing she is loved and understood for who she is.
4. 10 Things I Hate About You – I Hate The Way I Don't Hate You
Julia Stiles' monologue in this scene is one that holds a special place in so many of our hearts. 10 Things I Hate About You is one of the most beloved romantic comedies of all time, and as teens, we all watched Kat's emotional realization she was in love with Patrick even though he hurt her and felt it in our souls. If you've ever been let down by someone you love, but can't help but love them anyway, this scene hits you right in the heart – especially when that someone is a young Heath Ledger.
3. Up – A Montage of Love
Get the tissues ready! This montage of Carl and Ellie's relationship in Up is both incredibly heartwarming and heartbreaking all at the same time. While the end result of their story is very sad, the overall message of being able to share a life with your best friend is nothing short of perfection. The love Carl had for his wife was so pure and special, and any cartoon that can make me ugly cry both happy and sad tears deserves a place on this list.
2. The Notebook – "I Want All of You, Forever"
This list would truly not be complete without this iconic moment from the cult classic Nicholas Sparks film adaptation. Noah's speech to Allie appeals to both realists and romantics alike as he combines real fears and worries with huge declarations of love. As viewers, we can feel the emotion in this scene, and a relationship worth fighting for will always give us all the feels.
1. The Princess Bride – "Death Cannot Stop True Love"
Wesley yelling "as you wish" after being pushed down the hill by Buttercup is quite possibly one of the most heart-wrenching movie moments of all time, and thus earns the top spot on this list. After Buttercup realizes who he is and inevitably tumbles down after him, the two are finally reunited. Wesley recites the above line after the two share a dramatic embrace, and the rest of us are still swooning all these years later.
---
Have a favourite romantic movie moment you would add to this list? Let us know in the comments below!