Surprise! If you loved the premier of Discovery+'s 90-Day: The Single Life on Live! we have great news. We've got more content coming your way, and this time food is involved, so what's not to love? Enter: Chopped: Next Gen.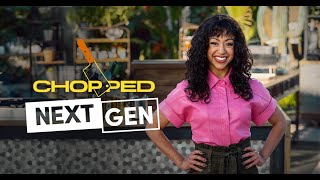 Food Network's classic Chopped culinary showdown has been reimagined for rising young chefs, with new host Liza Koshy, and all our Plenty of Fish members can check out the action as the season premiere streams on our Live! feature. If you're itching for some cooking inspo with a little bit of drama, here's how to watch:
Head over to this link tomorrow, May 25th, at 12:00 PM PST ( 3:00 PM EST / 7 PM GMT) and hit "Watch Now!" If you're already a POF member, you'll be taken right into the stream and can start watching. If you don't have a Plenty of Fish account, you'll be prompted to download the app and register, and once your profile is created, you'll receive an inbox message with the link where you will instantly be brought into the stream. If you're seeing a "Streaming Soon" banner it means the show hasn't quite started yet – give it a few. The stream will play on a loop until 1:00 AM PST / 4:00 AM EST / 8:00 AM GMT so if you miss the first round or just want to watch it again, you've got time!
If you're as excited as we are, and need some food-related content while you wait, here are a few tips on how to start your cooking journey. Enjoy, and see you all on Live! tomorrow.
---
Covid-19 has made many bakers and home-chefs out of us in the last year and it turns out, cooking a damn good meal not only satisfies the stomach but relaxes the mind. Based on our research, 95% of singles said after cooking a great meal they felt really good about themselves and another 88% said food brings them joy! I applaud those who perfected the sourdough starter and became a top chef as a result of the pandemic.
For those of you who haven't quite gotten into the cooking game yet, here are our three best tips on how to approach cooking as a hobby and less of a daunting task you're worried about burning.
1. Start Small
Not all of us were born possessed with the skills of Martha Stewart or Bobby Flay, so cooking has always been brushed aside as more of a task versus an enjoyable outlet for creativity. I personally used to make popcorn for dinner with a side of butter when I was feeling uninspired because, to be honest, I didn't really care about putting in the time or effort to make a fabulous meal for myself. Well, the pandemic changed that! One can't simply live off corn kernels evidently…
As I continue to work from home, dinner has become an event in my house and something I really look forward to because it removes me from my at-home desk and gets me focussed on a new task.
My best advice to you is to start small with an appetizer like Prosciutto Fig and Parmesan Rolls from NYT Cooking! This easy appetizer requires no actual cooking devices – just 20 minutes of your time. Focusing on the task of wrapping each fig with delicious prosciutto will put your mind in a trance and once you've completed the task, you get the simple joy of indulging in what you make! Not only does this provide a feeling of accomplishment but also pleases your taste buds.
2. Start Watching Cooking Shows or Videos for Inspo
There are a ton of cooking shows, like Chopped, that have always inspired me! If these chefs can create a three-course meal from a set of 5 basket ingredients, I should be able to make myself a killer dinner right? What's great about the cooking shows today is that if you didn't quite catch the recipe at the moment, you can find it online with a click of a button. Most chefs share their recipes step-by-step online versus the days of having to grab a pen and paper real quick as you watched Julia Child making her ever so famous and complex Beef Bourguignon on cable TV.
3. Taste Test Different Cuisines
What I love most about cooking now is even though I currently can't travel internationally due to Covid-19, I can make cuisines from around the world in my own kitchen. For a moment, I'm transported to destinations like the bustling streets of Vietnam or the Plaza Catalunya in Barcelona. Every other Sunday night, I've been making new traditional recipes from different countries around the world and it's been extremely educational and 100 percent delicious. This is another great way to explore the ways in which cooking can add happiness to your life!