Date night doesn't always have to be expensive, flashy, or even far from your couch. There are plenty of great date night movies out there for couples to cuddle up and enjoy at home. But what if you and your significant other have a furry friend? It'd be a shame to leave your pet out of a stay-at-home date (especially since it's #PlentyOfPets month here at Plenty of Fish). Among the many, I've narrowed down my top 5 best pet-centric date night movies for you, your date, and your fur babies to love!
5. A Dog's Purpose
Based on the beloved #1 New York Times Bestseller written by W. Bruce Cameron, A Dog's Purpose is all about a dog named Bailey who goes through reincarnation with multiple different owners in the search for his life's purpose. The story is sad and tragic at times, but very philosophical. It's a great date night flick because it opens up some solid conversation starters.
The film highlights human and animal companionship and makes for a one helluva tear-jerker movie with someone you consider to be your main companion.
4. Best in Show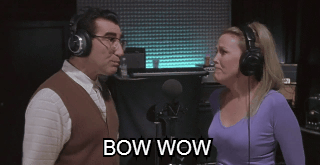 The year was 2000 and the two great minds of Christopher Guest and Eugene Levy came together to write the mockumentary film, Best in Show. The film follows a group of dog owners vying for the coveted spot of 'Best in Show' at a prestigious dog show. This movie is truly hilarious with comedy geniuses Catherine O'Hara and Jennifer Coolidge gracing the screen with improvised lines left, right, and center.
This movie is a great icebreaker and will no doubt get you and your date laughing together and commenting on how ridiculous the characters are.
3. The Art of Racing in the Rain
Pull out the box of Kleenex for this one because *full disclaimer*, it deals with death, a court battle, and a golden retriever named Enzo. What I like about this story is it's told entirely through the dog's POV. It begins with Enzo at the last moments of his life recalling his past years with his owner, Denny (played by the brilliant Milo Ventimiglia aka Jack on 'This is Us'). Denny is a professional race car driver who's torn between following his career dream and staying home with his growing family.
There are moments in his life where Danny faces tremendous loss including the heartbreaking death of Enzo but the movie comes full circle in the end and you're left with the feeling of hope. I don't want to give it all away but if I'm being honest it's an emotional trip from beginning to end and is probably going to make you want to hug someone you love!
2. Garfield: The Movie
Another light-hearted hilarious movie that belongs on this list is the live-action take on the popular comic and cartoon Garfield. For all you cat lovers out there, this one's for you! The overweight cat has a wicked sense of humor and is voiced by the very famous and funny, Bill Murray.
This story is all about unlikely friendships and the all too relatable antagonizing relationships between cats and dogs. This is 100% a feel-good film and a super low-pressure and fun date night movie.
1. Marley & Me
The reason this movie tops the list at #1 is mainly because it marries comedy and drama beautifully, and the story chronicles the love story of an adorable married couple. It's a romantic movie based on the main characters, John (Owen Wilson) and Jenny (Jennifer Aniston). The dog, Marley is a huge focus of the movie and will play a big part in how you feel after it's over (cue more tissues). The best part of this movie, IMO is, as the viewer, you get to observe John and Jenny going through all stages of their relationship – as newlyweds, new homeowners, and as parents. It really showcases the overall ups and downs of a loving relationship in a great way.
You'll also get about a thousand or so laughs out of the film. Have your fur babies close though when you watch it as the ending may leave you shedding tears and wanting a big ol' cuddle from your pet.