Yes I'll admit it! I just binged watched the Netflix reboot series of Queer Eye season 1 & 2 in less than a week. I cried, I laughed, overall this show pulls on the heart strings. I am officially obsessed with the 5 amazing lifestyle gurus and their ability to transform the well being of individuals that have lost their way.
These people often lack a great deal of confidence, or are in a slump due to personal reasons. Through positive mentoring and confidence building, the Fab Five always manage to transform these peoples' lives for the better. But, this show isn't just your average surface level makeover show, no no, they shine a light on societal issues and conflicts.
Everyone needs a daily does of these experts! If you're not quite caught up, let me introduce you to the Fab Five:
Bobby Berk: Interior Design Expert who works his butt off to complete a home reno in a week!
Karamo Brown: Culture Expert and wise owl
Antoni Porowski: Food and Wine Expert + Canadian hottie
Johnathan Van Ness: Grooming Expert and best one liners in the game
Tan France: Fashion Expert with a gorgeous accent
And here are the top 3 best pieces of advice I have taken away from the show that you too can apply to your  life!
Find Your Daily Dose of Self-Care
Find time in your daily routine to take care of yourself, whether it be through your ten minute morning grooming routine, a pampering at the spa, or treating yourself to a new date night outfit, it's important to allot time for you. Having those 10-30 minutes of solace devoted to self care will boost your overall well being, resulting in more positive interactions with your coworkers, friends and family. Take date night for example – you don't want to show up looking bedraggled for a potential match who has put effort into looking presentable do you? I don't think so.
Believe in Yourself and Your Ability to Succeed
Having a lack of confidence in yourself and who you are, can stop you from achieving your goals in life. It may even prevent you from setting goals at all. Stop saying "you can't" and start saying "you can!" Focus on everything you can do to achieve what you set out to do. If you continue to focus on reasons for why you can't do something, you'll never get to where you'd like to go. I always find it helpful to write down my goals and make a list of things I can do to get closer to achieving them. And it never hurts to give yourself a little pep talk in the morning before work!
Ask for Help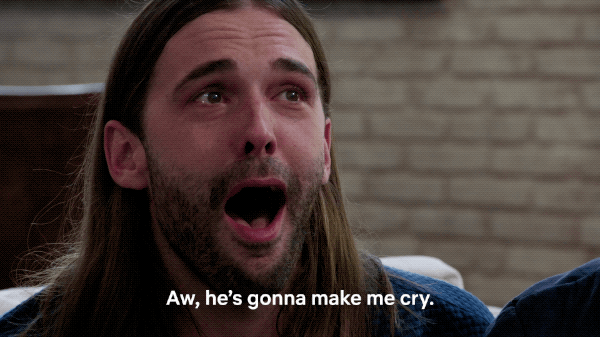 Oftentimes we associate asking for help as a weakness; it is not! Being vulnerable is one of the strongest things a human being can do and most importantly it's how we connect with each other. Sharing your feelings with or for someone can be scary at first but if you don't let people in occasionally, you'll end up isolating yourself from the ones who care about you most!
Season 3 of Queer Eye is in the works and I can't wait to see what other life lessons come from these inspiring men!