The weather outside is frightful! It's time to cozy up and watch some festive classics. Whether you're snuggling up with your love, your friends and family, or you're watching solo, these movies are guaranteed to warm the cockles of your heart. Enjoy!
The Holiday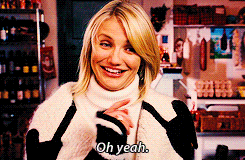 A feel-good tale of two single women swapping their Los Angeles and London homes during the holidays in the hopes of avoiding romance over the festive season. What will they do when love does indeed cross their path…? The Holiday is delightfully romantic and in parts deliciously cheesy, and will have you laughing and crying simultaneously. I may or may not have watched this lovely movie tonight, sobbed like a baby and enjoyed it immensely.
Watch if: Unexpected intercontinental romances are your jam
Best for: Feeling festively romantic
Love Actually
This festive staple follows a group of eight couples as they traverse their love lives during the festive season, as their stories unknowingly intertwine. It's funny, sweet, romantic and brilliantly written. A personal favourite and a must-watch!
Watch if: You like your Christmas movies with a British flavour
Best for: Feeling festively romantic… in London.
Home Alone
A Christmas movie list simply isn't complete without this holiday season staple! Watch as a young Kevin McCallister fends for himself when, in a rush to make their flight to Paris, his family forgets about their son and leaves him behind. After burglars target his family's home in a quiet suburban street, the quick-thinking 8-year-old sets a series of wince-worthy booby-traps to ensnare the would-be bandits. Hilarity ensues!
Watch if: It's been almost 365 days since you last watched Home Alone, and frankly that's too long
Best for: Feeling nostalgic about Christmases past
Elf
"The best way to spread Christmas cheer is…" (come on, you know it!) "singing loud for all to hear!" Adult-sized, child-like elf Buddy – played brilliantly by Will Ferrell – returns to New York City in search of his father, who he hears has made Santa's naughty list. Buddy's innocent behavior in a city of non-believers is as heartwarming as it is hilarious, and culminates with Santa's sleigh crashing in Central Park. The sleigh can't power up without Christmas cheer. And if that scene doesn't make you a little glassy-eyed, you may be more Grinch than Elf!
Watch if: You need to be reminded of all that's good in the season
Best for: Feeling full of festive cheer
Die Hard (no, really)
This one's a little controversial in terms of holidays movies, but Die Hard movies one and two are both set on Christmas Eve! If you want to see Bruce Willis aka reluctant hero John McClane chasing a group of bad guys around L.A. and Washington D.C. to a background of tinsel and Christmas trees, this is the movie for you. After all, nothing gets the heart racing like an action movie. Yippee-ki-yay..!
Watch if: You need some retro action hero Bruce Willis in your holidays (who doesn't?)
Best for: Giving you a different kind of holiday movie
Do you have more Christmas movie recommendations? Tweet me @cheryljmuir!